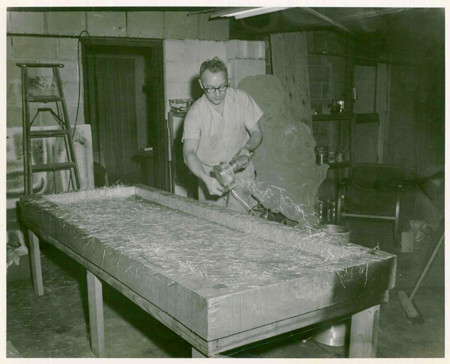 Arrowhead's first fiberglass molding facility was in Muncie, Indiana and was founded in March of 1972 in a 1600 square foot building. Our company grew quickly, and later in 1972 we moved to a 4000 square foot building.   Even though our primary focus was custom fiberglass molding, in 1973, we purchased our first thermoforming machine and started our first plastic thermoforming operation. The machine was very simple and very limited in its capabilities, but it got the job done. The machine was located in the middle of a facility primarily geared toward custom fiberglass molding so the machine was a little out of place. Most of the parts ran on the machine were for the bus and industrial truck Industry.
Our customer base and level of production quickly outpaced the size of the facility, which led to the move to a new 35,000 square foot location in 1977 on the south side of  Muncie, Indiana. This facility is now the home to our custom fiberglass molding facility that includes dedicated areas for our closed molding and open molding operations as well as our CNC pattern and fiberglass part trimming operations.
As Arrowhead gained more customers, the demand for custom thermoformed parts grew.  Eventually, we decided that it was time to purchase an additional building to be used as a vacuum formed (aka thermoformed) plastic part production facility.   In addition to providing some much needed additional production space, the separation of the fiberglass molding and thermoforming process helped to ensure the chance for cross contamination between the two processes would be minimized.  In 1996, Arrowhead bought a building in Eaton, Indiana and created a separate thermoforming division of Arrowhead Plastic Engineering. This 30,000 square foot facility houses six thermoforming machines, two (5) axis CNC routers and a variety of different auxiliary equipment that allows Arrowhead to better serve our customers' diverse plastic production needs.