Arrowhead's Muncie, Indiana Composite Molding Plant specializes in four primary fiberglass and composite processes: Resin Transfer Molding (RTM), RTM Lite, Vacuum Infusion Bag Molding (VIBM) and Spray-Up or Hand Lay-Up Open Molding.
Typical part volumes are 100 to 20,000 parts per year. In addition to fiberglass molding production, our Muncie plant produces most of its own tooling and performs a number of secondary value-added processes such as fiberglass fabrication, bonding, assembly, post mold baking, CAD modeling, precision measuring via a FARO Arm, laser scanning, reverse engineering, sound deadening, tooling modification, expedited lead times and CNC trimming. Our plant personnel are very experienced in the application of various core materials such as balsa wood, PVC foam, urethane foam and craft honeycomb. The plant supplies parts with a finished gel coat surface, grey sanding gel coat surface (for customer painting), and parts with an automotive paint finish.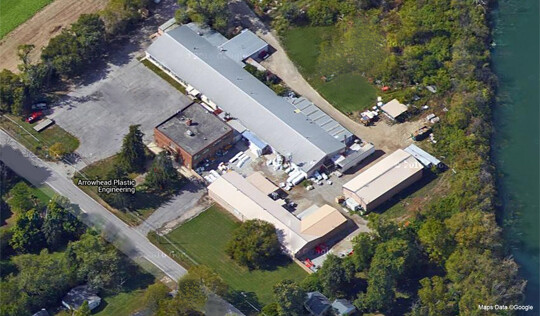 Our plant is conveniently located on the south edge of Muncie, 15 minutes from I-69 and 75 minutes from the Indianapolis International Airport. The fiberglass plant primarily serves the Midwest but ships numerous parts to Arizona, Florida, Pennsylvania, New York, Minnesota, Wisconsin, Virginia, Alabama, and Montana. We have customers all over the United States; contact us to discuss your project needs and learn more about delivery times and shipping methods to your area.