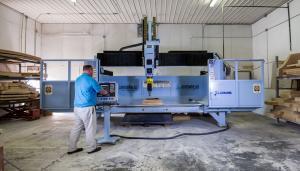 Customers of Arrowhead Plastic Engineering benefit from decreased lead times and increased precision thanks to the company's five 5-axis CNC routers.  All of the CNCs have a 60" x 120" bed.  The machines are capable of cutting hard woods, low and high density tooling board, low density foam blocks and other advanced tooling materials, giving customers more manufacturing options than ever before.  In addition, the CNCs are used to trim molded fiberglass and thermoformed plastic parts with precision accuracy.
Arrowhead recently added a new 5-Axis CNC Router from DMS with a 60" x 120" x 48" cutting envelope. This new CNC Router gives Arrowhead the ability to hold much tighter tolerances on larger patterns and allows for more advanced machining procedures.  The machine utilizes the latest Fagor Controller, allowing for smoother operation and adherence to tighter specifications.  Arrowhead can also offer in-process inspection services and more accurate pattern verification.
"Arrowhead's continued financial commitment to advanced technology gives our skilled team the resources they need to rapidly tool up new projects for our customers at the lowest possible cost," said Tom Kishel, Arrowhead's CEO.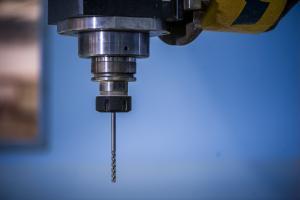 The advancements in CNC technology allow Arrowhead to not only provide precision cutting and pattern making, but also to provide precision trimming and precision measuring services for its customers. A Renishaw Probe, in conjunction with the new DMS Router, gives Arrowhead the tools necessary to verify and measure some of the most complex shapes. The end result is the ability to add verification of patterns and production parts if required, thus ensuring conformance to the original design specifications.
Arrowhead added the ability to inspect parts both at their facility and off-site with the purchase of a new Faro Arm and Laser Scanning Probe. The Faro Arm combined with the Laser Scanning Probe allows Arrowhead to measure a part up to 12' long without reindexing and allows for the measurement of complex curvature.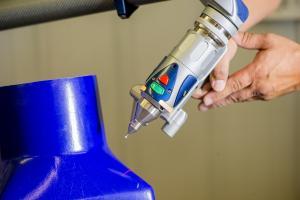 In addition to precision measurement, Arrowhead is also able to utilize its FARO arm for 3D scanning. This helps Arrowhead to overcome some of the challenges of reverse engineering and CAD-based design. Customers may also take advantage of Arrowhead's CAD model development services.
"Not only can we convert your 3D CAD model into a usable real world pattern made from various type of materials, we can give insight into how to change your design in a way that will allow for easier manufacturability, better material distribution, and a part that will be less prone to surface cracking, stress whitening, sheet tearing, and resin buildup," said Mark Kishel, Sales Engineering Manager.
Arrowhead Plastic Engineering has been building various types of tooling since 1972. Because Arrowhead's core focus is custom composite molding and thermoforming, the majority of this custom tooling has utilized in house. Arrowhead purchased its first 5-Axis CNC in 1992. Recently, the company decided to offer its unique pattern making and auxiliary capabilities as a stand-alone service. For more information, contact Mark Kishel at (765) 396-4443.